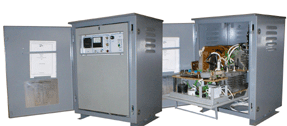 Cathodic Protection transformer rectifiers "UKZT" are intended for protection of underground metal constructions (pipelines, tanks etc.) against corrosion by cathodic polarization method. This rectifiers are modern variant of rectifiers which are made since 1994.
The rectifiers can be completed by additional options:
– The Wattmeter;
– The smoothing filter FPP-1. This one allow to raise EFFICIENCY of the rectifier and take off possible negative influence of a pulsing voltage to communications line. By designs, filter FPP-1 can be using as pedestal of CPR "UKZT".
– The pedestal for installation of the rectifier in field conditions
The rectifiers "UKZT" are made in two modifications:
UKZT-1 OPE X,X Y1 – The cathodic protection rectifiers with manual control of output parameters (without automatic). This modification was cancelled from January 2016;
UKZT-A OPE X,X Y1 – The automatic CP rectifiers with three regimes of work: manual control, automatic stabilization of output current (DC) or protective potential on protected construction. Also these rectifiers may be connected to some systems of remote control and operating. That function allows to provide remote control and operate parameters (protective potential, output current and voltage) of the rectifiers. This function may be included by preliminary request from Customer.
All CP rectifiers "UKZT" and "UKZT-U" have next features:
– Intuitively clear panel of control bodies ;
– Unique ergonomic design;
– Unpretentiousness and safety in work;
– Universality and interchangeability of blocks and parts of the rectifiers;
– The compact and strong case from sheet steel 2мм;
– High-quality powder coating of metal parts of the case;
– Small dimensions and weight.
CHARACTERISTICS
UKZT-A OPE 0,3 Y1

UKZT-A OPE 0,6 Y1

UKZT-A OPE 1,2 Y1

UKZT-A OPE 2,0 Y1

Nominal output power, kWatt

0,3

0,6

1,2

2,0

Nominal voltage of power suply by frequency 50 Hz ,V AC

220+22

Nominal output current, A DC:
Regime 1
Regime 2

25
12

25
12

50
25

42
21

Nominal output voltage, V DC:
Regime 1
Regime 2

12
24

24
48

24
48

48
96

Efficiency, no less, %

70

70

70

70

Pulsation of DC output voltage, no more, %:
with filter FPP-1
without filter FPP-1

3
not normed

The range of adjustment of output voltage, %

5…100

Automatic stabilization of:
output current, at the range, %
protective potential, V

5 — 100
-3,5 … -0,5

Accuracy of automatic stabilization:
output current, at the range, %
protective potential, %

+ 2,5
+ 2,5

Climatic modification, category of accommodation

Y1

Safety class of service

01

Protection against influence of an environment and contact with current carrying parts

IP34

The working range of temperature, C°

– 45 … + 45

Mass, no more, kg

45

58

62

68

Dimensions, mm ( WxHxL)

460 х 615 х 400