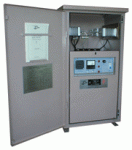 Electro-drainage and cathodic protection rectifiers UEDZ are intended for protection of steel underground constructions in a zone of the electrified rail transport ways. This one distribute of a currents in system "rail – ground – underground construction". Rectifiers UEDZ differs from the polarized electro-drainage devices presence by own source of a direct current and the block of automatic stabilization of protective potential on a protected construction. By construction, the UEDZ are hybrid devices having functions of cathodic protection automatic rectifier and the polarized electro-drainage device due to special circuit of the rectifier's bridge. These drainages allow to increase considerably limits of adjustment of potentials on a underground construction due to inclusion of an additional source of a current in a circuit of a drainage.
Automatic electro-drainages UEDZ are irreplaceable at use in zones of wandering currents several sources.
The constructive and circuit decisions which applied in rectifier UEDZ, are completely  similar used in CP rectifiers "UKZT" series what causes presence of all advantages and features inherent for them:
– Intuitively clear panel of control bodies ;
– Unique ergonomic design;
– Unpretentiousness and safety in work;
– Universality and interchangeability of blocks and parts of the rectifiers;
– The compact and strong case from sheet steel 2мм;
– High-quality powder coating of metal parts of the case;
– Small weight
Also, the UEDZ may be completed by "KATRON-SKZ" controller for integrating to the "STEL-K" telemetry system.
CHARACTERISTICS
 UEDZ OPE 1,8 Y1,
UEDZ OPE TM-GSM 1,8 Y1
  UEDZ OPE 3,0 Y1,
UEDZ OPE ТМ-GSM 3,0 Y1
Maximal output power, kWatt
 1,8
3,0
Nominal voltage of power suply by frequency 50 Hz ,V AC
220

+

22
Nominal output voltage, V DC:
Regime 1 (ED mode/CP mode)
Regime 2 (ED mode/CP mode)
6/12
12/24
6/12
12/24
Nominal drainage current, A:
regime 1
regime 2
300
150
500
250
The range of adjustment of output voltage, %
5 – 100
Automatic stabilization of protective potential in range, V
-3,5…-0,5
Efficiency, no less, % (CP mode)
70
Accuracy of automatic stabilization of protective potential, %
+ 2,5
Voltage overload protection activation, V
390
Climatic modification, category of accommodation
Y1
Safety class of service
01
Protection against influence of an environment and contact with current carrying parts
IP34
The working range of temperature, C°
-45 … +45
Mass, no more, kg
 80
110
Dimensions, mm ( WxHxL)
435х830х370