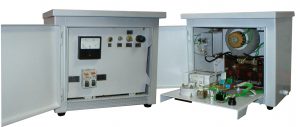 The CP rectifiers "UKZT-S" were created firstly for cathodic protection of oil wells columns, but also they may be used for protection of small long pipelines. Not looking on small  overall dimensions (twice less than the junction box BDR) and a little bit simplified circuit of the rectifier, the "UKZT-S" is the high-grade automatic CP rectifier, which has an opportunity of connection to some telemetry systems.
As one of many function, this rectifier may be used for mobile laboratory as test-rectifier or as reserve-rectifier for time repair of the main rectifier.
UKZT-AS OPE 0.3 Y1 – the rectifier with full-function automatic allows to include, besides manual control, modes of automatic stabilization of output current or protective potential on protected construction. These rectifiers may be connected to some systems of remote control and operating. This function allows to provide remote control and operate parameters (protective potential, output current and voltage) of the rectifiers.
– Traditionally the CP rectifiers "UKZT-S" have next features:
– Intuitively clear bodies of control;
– Unique ergonomic design;
– Unpretentiousness and safety in work;
– The compact and strong case from sheet steel 2мм;
– High-quality powder coating of metal parts of the case;
– Small dimensions and weigh.
CHARACTERISTICS
Nominal output power, kWatt
0,3
Nominal voltage of power suply by frequency 50 Hz ,V AC
220
Nominal output voltage, V DC
25
Nominal output current, A DC
12
The range of adjustment of output voltage, %
1…100
Automatic stabilization of:
output current, at the range, %
protective potential, V
5 …100
-0,5 … -3,5
Accuracy of automatic stabilization:
output current, at the range, %
protective potential, %

+ 2,5
+ 2,5

Efficiency, no less, %


without filter FPP-1
with filter FPP-1
70
75
Pulsation of DC output voltage, no more, %:
with filter FPP-1
without filter FPP-1
3
not normed
Voltage overload protection activation, V
390
Climatic modification, category of accommodation
Y1
Safety class of service
01
Protection against influence of an environment and contact with current carrying parts
IP34
The working range of temperature, C°
-45 … +45
Mass, no more, kg
17
Dimensions, mm ( WxHxL)
310х305х200